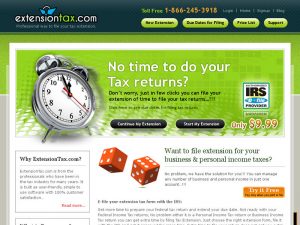 The exact Phrase to explain how tax extensions work is Filing for a Tax extension is "May I place you on hold for a while". Filing for an Extension is nothing but keeping the IRS informed that you will file your Tax returns after a while. You may have more than enough money to pay off your Taxes but, you may not have the required paper works ready by the Due date. Extensions are more likely to be a gift given to tax payers by the IRS and the best way to file for it is through ExtensionTax.com.
www.ExtensionTax.com is an IRS authorized E-file service provider that supports E-filing for Extensions Online. Millions of taxpayers are benefited by this user friendly, hassle free application by E-filing their Tax extensions. The online portal has been designed in such a way that complex tax jargon's are broken into simple understandable words, which makes it easier for a common man to file for an Extension.
What all can be done through www.ExtensionTax.com ?
Form 4868:
Application for Automatic Extension of Time to File U.S. Individual Income Tax Return.
Form 7004:
Form 7004 is used to file for an automatic extension of time to file your business tax return for a partnership, a multiple member LLC filing as a partnership, a corporation, or s-corporation.
 Form 8868:
Application for Extension of Time to File an Exempt Organization Return. ExtensionTax.com supports both automatic and non automatic (additional) extension.
Form 2350:
Application for Automatic Extension of Time to File U.S. Individual Income Tax Return for U.S. Citizens and Resident Aliens Abroad.
This makes Extensiontax.com a one stop shop for all your tax extension needs. Powered by Think Trade Inc, one of the leading E-file service providers, Extensiontax.com has acquired hundreds of thousands happy taxpayers who turn towards to the application for all their Extension needs. Call 1-866-245-3918 toll free for any assistance or write to support@extensiontax.com .