Hello taxpayers, IRS made e-filing possible to apply for business tax extensions online through its authorized e-file service providers. You can choose your convenient best e-filing service provider to e-file form 7004 business tax extension to get the additional time to report your taxes to the IRS. The deadline to e-file business tax extension form 7004 is March 15th, 2022. You will get an automatic tax extension time of six months to file your complete reports along with the supporting documents for the tax year to the IRS. But the six months tax extension period is not applicable for tax due payments. You should estimate your tax payments and pay them fully by March 15th. You will get the time till September 15th, 2022 (six-month extension time) to submit all the documents to the IRS without any late charges and interests.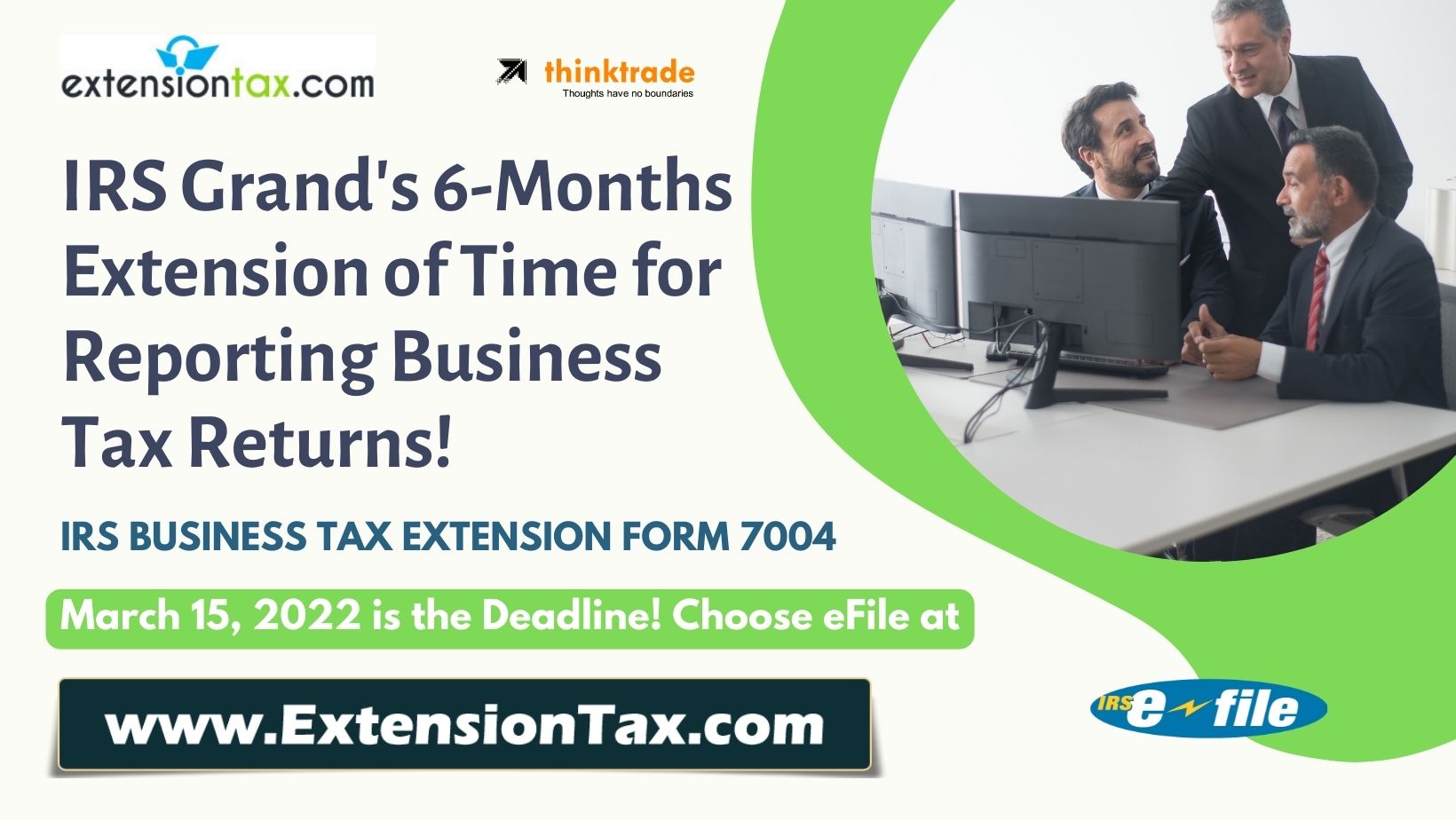 Extensiontax.com is the first tax extension forms e-filing service provider to get approved and authorized to officially facilitate tax extension applications from the IRS. Let us look into the benefits and comforts of e-filing form 7004 business income tax extension at extensiontax.com. 
E-filing form 7004 business tax extension is easy!
Extensiontax.com offers you a convenient form 7004 e-filing solutions through excellent user experience and customer support. You can never find these value-added services in paper filing methods. You don't have to directly go to your local IRS office to apply for tax extensions; instead, you can complete the entire form 7004 business income tax application process within a few minutes at the comfort of your home/office using your computer or smartphone. ExtensionTax has web applications and mobile applications for Android and iPhone users.   
Simple step-by-step process!
The entire form 7004 business income tax extension application process will be over in a few minutes by e-filing at extensiontax.com. All you need to do is keep the necessary information, including the EIN, tax estimation, payment dues (if any), ready so that you can complete e-filing form 7004 quickly. The whole process is simple, efficient and it doesn't require any tedious processes like form filling, waiting, last-minute tension, document misplacement, and much more. You don't need any expert guidance to e-file in extensiontax.com. The e-filing process is smooth, and you have our customer support desk to walk you through the process if you meet any roadblocks.  
Highly Secure!
The technology in Extensiontax.com is advanced and foolproof, and all your personal and business information is thoroughly protected and safe. As an IRS-approved e-file service provider, we cleared every security clearance and met all the technical requirements as per the IRS regulations. You will have all your information, documents, and transactions secured. You and only you can access all the information and grant permission for transactions and everything.  
Instant Approval!
E-filing form 7004 business tax extension at extensiontax.com gets you instant approval from the IRS. You don't need to wait for days or weeks to get the approval. Instead, the approval will automatically come to your e-mail within a few minutes after completing your e-filing process. Everything is digital in extensiontax.com so that you don't have to worry about misplacing your files and approvals. You can access everything from your dashboard in your ExtensionTax profile.  
Pocket-friendly and Affordable Price!
You can e-file business tax extension form 7004 directly to the IRS in extensiontax.com at $14.99 per application. This price is very pocket friendly and useful for all the taxpayers to e-file their business tax extension on time to avoid penalties and interests from the IRS.  
Best Customer Support Desk 
You can reach out to our customer support desk with any queries regarding form 7004 and respective e-filing methods and further processes. You can call us at +1 – 866 – 245 – 3918 (toll-free) to talk to our customer support executive regarding your doubts, and they will provide immediate clarifications and guidance. You can also write to us at support@extensiontax.com, and we will revert to you promptly.  
C-Corp and other businesses has until April 18, 2022 to complete a Federal Tax Extension Form 7004, choose electronic filing at ExtensionTax.com to get it done in minutes.