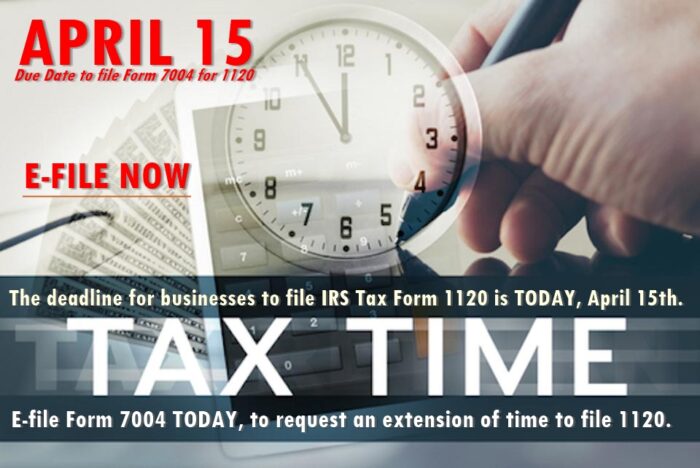 There is a pressing need to act quickly because there isn't much time left to file the C-corporation Form 1120 income tax return or an Extension Form 7004 for C-corporation 1120 to seek a filing extension. It's not unfair to choose to save your hard-earned money for as long as possible, so you can make sure that you register and pay your taxes on or before the deadline to avoid IRS fines and interest. Keep one step ahead of the IRS by e-filing for an automatic 6-month extension of time to file the income tax returns. The deadline to file your C-corporation income tax returns (IRS Form 1120) is TODAY, April 15, 2021. The deadline to apply for a Form 7004 extension, which is an automatic extension of time for Form 1120, is also TODAY, April 15.
An extension will allow you more time to get your papers to the IRS, but it will not give you more time to pay any taxes that are owed. You'll be charged interest and maybe fines if you don't pay by the April 15 deadline. And if you can't afford to pay, file on time. Do not seek an extension if you have finished the return but are unable to pay the entire amount of tax owed. Fill out a tax return as soon as possible to pay as best as you can. To cover the balance, use the Online Payment Agreement portal at www.irs.gov to register for a payment plan; if you are unable to accept installments, contact the IRS and discuss your options. You will pay any estimated balance due by approving an electronic funds withdrawal from a checking or savings account if you request an extension via e-filing Form 7004 for 1120. You'll need the correct account and routing numbers from your branch.
We recommend that you file your tax returns immediately on the ExtensionTax website which is an IRS-approved e-file Service Provider for E-filing Extension Tax Forms, as today is the last day to do so. In the United States, ExtensionTax is the most well-known and well-respected E-file partner for extension taxes. We are aware of your requirements and make every effort to fulfill them in order to provide you with exceptional service. Our staff includes industry analysts and tax professionals, all of whom have vast expertise and contribute to our unified brand. According to our consumers, our technology is incredibly easy to use. E-file your Form 7004 for 1120 by logging on to www.ExtensionTax.com right now. Please contact our Tax Experts at 1-866-245-3918 or support@extensiontax.com with any questions or concerns you might have.